I don't have many old photographs to remind me of my own early days in ham radio but I still have the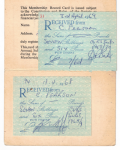 re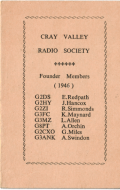 ceipts for Cray Valley Radio Society membership in 1968 and 69 – 7/6d a year suscription!
Also some very memorable QSL cards from the late sixties, when I was sending SWL reports before taking the RAE.  Morse tuition began with Bob, G3ORC (SK) towards the end of 1968.  I moved from New Eltham, where CVRS met once a month (with another meeting each month in Eltham) to Northfleet in April 1968.  I created a shack in my upstaurs bedroom looking out onto the back garden – making aerial feed rather convenient.  I can also vaguely recall drilling holes in the ceiling – so there was probably a loft antenna, too.
Here are some of them those cards
I sent Stew a detailed SWL report covering Top Band CW QSOs in 1968.  He sent this card, a a pack of information cards and encouraging notes.  I true ham of the old school.
Bill was practically DX while I lived in New Eltham!  (A 16-mile bike ride)
So moving to Northfleet allowed me to visit regulalrly on my bike – a five minute ride – and to enjoy the daily net on 1980 AM every morning.