I don't have many old photographs to remind me of my own early days in ham radio but I still have the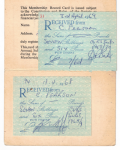 re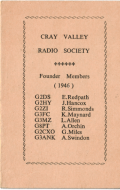 ceipts for Cray Valley Radio Society membership in 1968 and 69 – 7/6d a year suscription!
Also some very memorable QSL cards from the late sixties, when I was sending SWL reports before taking the RAE.  Morse tuition began with Bob, G3ORC (SK) towards the end of 1968.  I moved from New Eltham, where CVRS met once a month (with another meeting each month in Eltham) to Northfleet in April 1968.  I created a shack in my upstairs bedroom looking out onto the back garden – making aerial feed rather convenient.  I can also vaguely recall drilling holes in the ceiling – so there was probably a loft antenna, too.
Bill, G5VZ – usually known as 'Bill Five' – was just along the road, on the other side, from Keith G3OXH (SK) who worked Top Band and 80m mobile.  He had a Ford Anglia and a G3FIF base-loaded whip antenna.  Bill was on the Top Band net – 1980 AM – every morning but on Sundays the net moved to 10m.  The Top Band net had a huge SWL following, in Kent and – as they said back them – 'over the water' in Essex, benefitting from the availability of Trawler Band radios in the late sixties.  Of course, Trawler Band also included the huge signal from Scheveningen Radio, callsign PCH, not to mention HI-FIX and the LORAN beacon in the middle of Top Band.
Here are some of them those QSL cards
| | | |
| --- | --- | --- |
| I sent Stew a detailed SWL report covering Top Band CW QSOs in 1968.  He sent this card, and a pack of information cards and encouraging notes.  A true radio ham of the old school. | | |
| | | |
There are also some galleries of scanned QSL cards on this page.  I'm gradually scanning cards amd separating them into 'old ones' from the 1960s and the early 1970s, cards from the turn of the new century until I was QRT for a hile, and recent cards for contacts after September 2020.