There are three galleries, showing cards received from stations following SWL reports on their transmissions.  They represent a wonderful time in the hobby of amateur radio – at that time I always endeavoured to provide reports that would be a benefit to their recipients.  Some of them I still recall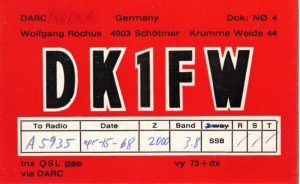 receiving – even if it was almost sixty years ago.  This one, from DK1FW in Germany I remember especially well because of what was written on its reverse side: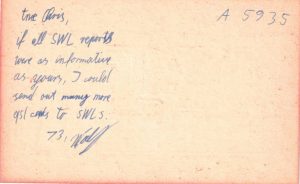 I felt genuinely proud!
---
This first collection is of cards received from stations in the British Isles
Next are cards received from stations located in the rest of Europe
This last gallery from 1960s and 1970s consists QSLs received from stations outside Europe