Since holding the G5VZ call I have had a number of QSL card designs.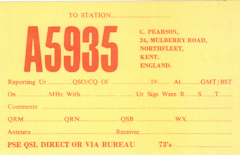 Here is the first printed card I ever had – a SWL report card from spring 1968 when I had the RSGB Associate number A5935.
I also found in an envelope with the older SWL cards a gummed label for sending cards to the RSGB bureau –
The G5VZ cards show a gradual development of design through homebrew influence, to obviously 'homemade card' designs to more recently-adopted retro designs.
As a tradition of ham radio, I like QSL cards to celebrate the old while embracing the new.  Some of the themes for these cards are very much influenced by cards I received back in the sixties, for sure.
They are presented here in more or less reverse chronological order.
Anyway, these are the cards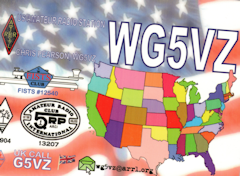 After I passed the Technician, General and Extra US exams I was initially given the call AE7FU, having a US address in Washington State at that time.  I wasn't too enamoured by the call, to be honest.
I went the vanity call route and since about 2010 have held WG5VZ.
Sadly, though, the email address on this card sayd wg5vz@arrl.org when, in fact, it should be at arrl.net.  I alter them by hand on the very few cards I send!